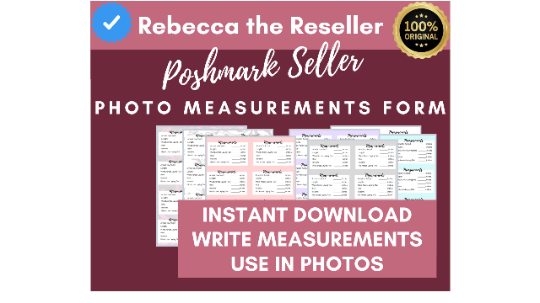 Photo Ready Measurements Form
Save time and effort in photographing and listing.
I use this with all of my listings!
Would you like to save time on your photo process and be able to list faster?

Save time and effort when you are measuring clothing items and taking photographs for your Poshmark listings. Enhance your listing visually with a photo of the item measurements that is designed and photo ready. List your items faster by not having to type out or copy and paste all the measurements information. Write an overall better listing because you can now save characters from the measurements and use for more keywords that help your Poshmark listings get found in search. You can drastically improve your processes and listings with the Photo Ready Measurements Form.

Get my Photo Ready Measurements Form and give your Poshmark listings a huge boost by enhancing your presentation and listing faster. Boost your Poshmark business today!


☑️ What's Included? ☑️
You'll get an instant download - Photo Ready Measurements Form for Resellers
➤ 11 Sheets PDF file
➤ 8 forms per sheet
➤ Variety of colors and patterns, plus a B&W option to save on ink
➤ BONUS - Rebecca the Reseller - Reseller Resources Guide


**Laminate for wipeable form to use again and again with dry erase markers & cloth.**
**Buy template once, print as many as you need, over and over again!


💥 More About This Item: 💥
➤Measure clothing item and record measurements on this form
➤Since the form is pretty, you can just snap a photo of this form and include in the photos of your listing
➤SAVES a ton of time typing out all the measurements in the listing description
➤SAVES lots of characters in the description so you can include more item description and keywords so your item is found in more search results.
➤Measurements for each item in one place in photos on your phone.
➤No notebooks, no scraps of paper, everything easy in one place.
➤Don't waste time counting how many items you need to take photos of or completed, just count out your forms and complete them all - so easy!

Measurements tracked are: Armpit to Armpit, Length, Waist, Rise, Inseam, Hips - meant to cover basically all types of clothing items.

Get more information about the Photo Ready Measurements Form and how it can help save time & list faster in your Poshmark Closet by watching my demonstration video.